Machining Tools For Automation Solutions
Machining Tools, Indexers, Fixtures and Clamps
Pascal Workholding in Machining
Pascal workholding and automation solutions excel in high-volume production machining environments for businesses seeking to improve their machining and fixturing processes. Many production facilities still use manual clamping solutions when making parts. As the manufacturing industry evolves, companies must utilize innovative technology and automation products to keep pace. Pascal serves stamping and molding companies as well as leading automotive manufacturers worldwide, and these companies require the highest levels of quality, reliability and productivity from their machining fixtures to meet their production needs. Pascal also offers robot automation solutions for machining such as our robot tool changer and pallet clamps.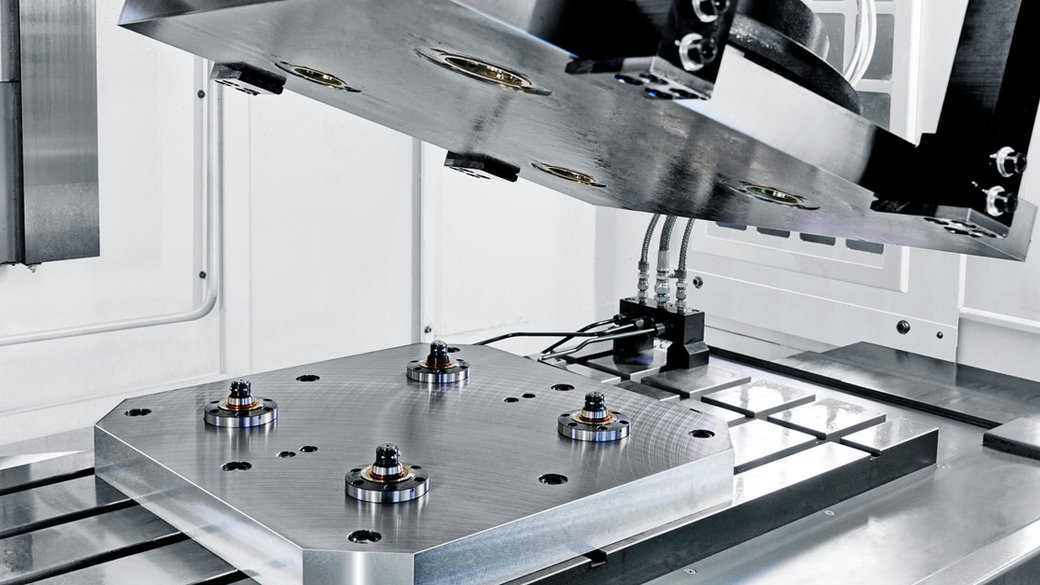 Benefits of Using Pascal Workholding
Smaller Machines, More Spindles
Pascal has enabled tooling automation of large and heavy workpieces on small machining centers thanks to our machining fixture clamps. Using our roller gear index table  and our hole clamps (also known as expansion or bottom clamps) permits the full envelope of the machine to be utilized. The space saved as a result allows you to put more machines on your production line.
Our indexer is compact and has an integrated rotary union to minimize the footprint even further. Utilizing a roller cam allows for much greater load carrying capability, accuracy, and speed. Hole clamps allow for clamping using cast holes in the workpiece and provide access to each side of the workpiece. This makes for a smaller fixture compared to one that uses traditional clamps along the side of the workpiece.
Sensing Clamps for Machining
Metal chips and coolant can often interfere with clamps, and to remedy this situation, Pascal workholding has integrated internal sensing into our swing clamps, link clamps, work supports and hole clamps. They offer seat checks with signal confirmation that the clamps have moved to the clamp, unclamp or mis-clamp position. This informs the machine controls that help avoid expensive crashes and prevent the manufacture of bad workpieces due to improper clamping.
Bottom Line Impact
Many businesses make costly investments in the best machine tools only to equip them with low-quality clamping solutions. Pascal provides machine automation to keep production moving so you can take full advantage of its capabilities.
For businesses looking to increase production capacity, reduce downtime, and achieve automated clamping/unclamping and pallet changing, look no further than Pascal Engineering.
Need help finding the right product for your application?