Machining Center
Balancer for spindle head & tool unclamp unit
Balancer for spindle head & tool unclamp unit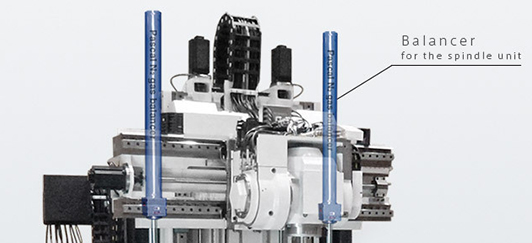 Pascal's nitrogen gas balancer assists by balancing spindle units in machining centers. It can take the place of hydraulic cylinders, air cylinders and other weight balancers. The N2 gas balancer lessens the burden on the servo motor, reduces the power consumption, and prevents heat generation.
When moving a spindle head without a balancer, a heavy burden is placed on the servo motor, which in turn consumes more power. In addition, the positioning accuracy might be affected if the screws expand due to the heat of the motor, especially when feeding at high speeds.
Many counter weight balancers take up lots of space and have a slow response and cannot keep up with high speed feed. Air cylinders require a large and obstructive reservoir tank, and an air cylinder with piping of a large diameter is necessary. Hydraulic cylinders require a unit and piping, as well as an anti-heat device to combat oil temperature increases.
An N2 gas balancer helps to combat these problems, as it has a higher response even at high speed for up/down motions, enhancing the accuracy for contouring. It can be easily installed near the spindle heads center of gravity. In comparison to many conventional balancers, the N2 gas balancer is compact and space saving, it does not require a power source or piping, and it minimizes pressure fluctuations for stable balancing.
Gas charging tools are available such as regulators and pressure hoses as well as various mounting adapters.
Tool unclamp unit
The tool unclamp unit is motor driven and double cam, clamping in just 0.06 seconds. It has a high response without a hydraulic system. Improved interlock to A.T.C. has successfully shortened the cycle time. A series for vertical machining center has been recently added. For horizontal machining centers please contact us.
Need help finding the right product for your application?