Pallet Clamp
Air Clamps, Hydraulic Clamps & Locator Rings
Pallet clamps with high accuracy and repeatability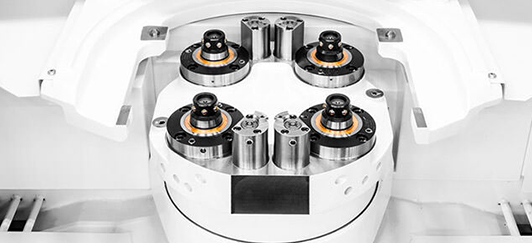 Pascal's pallet clamp comes in a number of models to best suit your application. Pallet clamps are highly rigid, providing dual surface contact and ensuring within 3 μm repeatability. To prevent foreign substances from interfering, air blows out of wide slits laid out over the circumference of the tapered surface and seating surface directly.
Operations that would result in incomplete clamping, such as metal chips entering the mechanism, can be prevented since seating detection is provided.
The locate ring has been treated with rust proofing in order to prevent rust from occurring while the pallet is in storage or on standby.
All machined parts related to dual surface positioning are made using a high-precision grinding machine in a temperature controlled room to improve the accuracy of the parts.
The pallet clamp has a tapered surface angle that is close to perpendicular so that clamping remains stable with minimal impact from the thrust exerted during cutting processes. This is particularly effective in inhibiting chatter when the cutting process takes place at higher locations on the pallet, and it improves processing conditions for high-speed cutting and heavy duty cutting.
The pallet clamp system makes exchanging jigs and workpieces easy and reduces the setup time that was previously needed for alignment.
Multifaceted machining with high accuracy
With the Pal system, multifaceted machining with high accuracy is easy. Since workpieces do not have to be dismounted from the pallets, continuous operations through multiple machines is possible. You can seamlessly transition from a vertical machining center or vertical lathe to a horizontal machining center.
Easy pallet transfers
Process division is also easy with the Pal system. Its highly accurate positioning makes it possible to distribute processes. This advantage allows flexible allocation of machining processes. It also makes it easier to unify tact time among all machines, leading to even distribution of loads among machines and raising productivity. Mixed production of workpieces is easy with the pallet transfer method. Workpieces are fixed onto the pallet before transferring, and so the clamp time is shortened and problems related to clamping can be mitigated at each machine.
Pallet Clamp Model Types:
Model CPC: 7MPa| Single acting |Spring clamp |Hydraulic unclamp
Model CPH: 7Mpa |Double acting |Hydraulic clamp | Hydraulic unclamp
Model CPL: Air |Double acting | Air clamp |Air unclamp
Model CPY: Air |Double acting |Air clamp | Air unclamp |Dual cylinder model
The newest model CPY saves even more space with a flange and raises the lifting force.
A rectangular flange can be made to order.
Need help finding the right product for your application?