Quick Die Change System
Helping You Improve Steel Parts Production
Reduce Downtime & Increase Safety!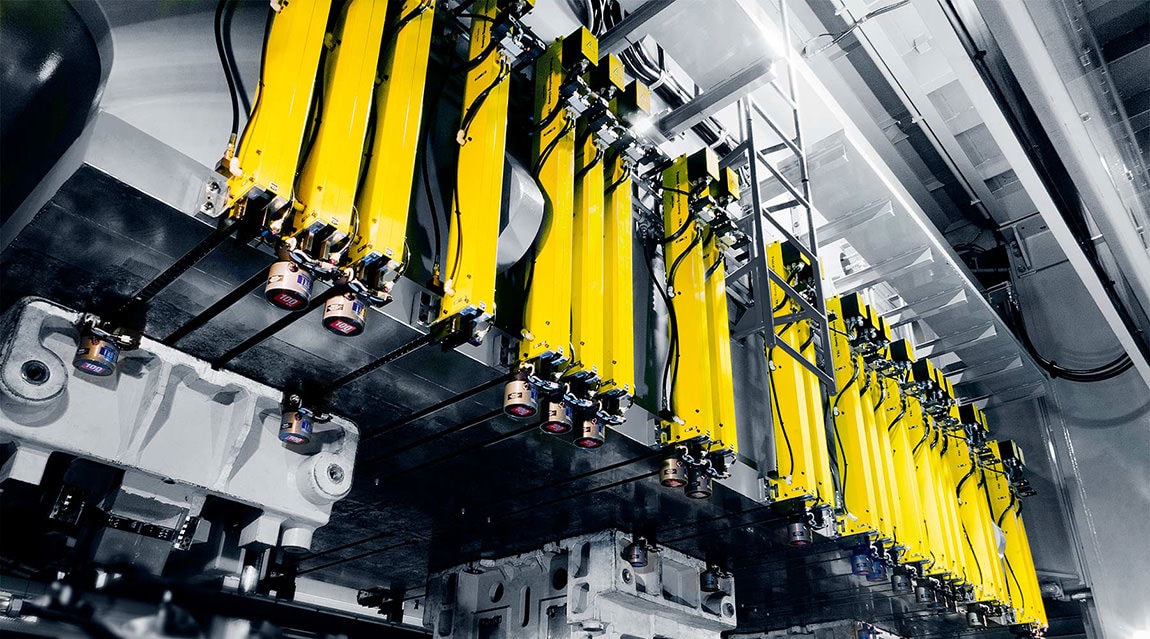 The key drivers to any successful manufacturing business are safety, quality, productivity and delivery. Pascal Engineering Inc. — a premier Quick Die Change (QDC) company — can help you achieve the highest standards and improve each of these areas in press stamping through optimizing the die change process.
What Is a Quick Die Change System for Press Stamping Machines?
During a die change, many things can happen that affect your key business drivers. A traditional die handling system requires manually loosening and tightening bolts on clamps while physically climbing into the press, which has the potential for causing harm to workers. Plus, quality and productivity are compromised due to wasted downtime.
A quick die change system provides a way of swapping one die with another automatically, often referred to as smed, or single minute exchange of dies.
Benefits of implementing a quick die changer system for press machine operations include:
Perform more frequent changeovers with no loss of capacity
Shorter production runs
Reduced manufacturing lead time and increased scheduling flexibility
Higher quality through consistent tool positioning
Increased capacity
Lower changeover costs
Increased safety for workers
Pascal's Quick Die Change (QDC) System streamlines the clamping/unclamping and die transfer process utilizing die clamps, die lifters, and traveling clamps and more to make die changing easier and safer than ever. 
Clamps with sensors coupled with an operation and control panel provide an interlock system that will catch human errors before they occur, meaning fewer accidents. The interlock system will not let the operator proceed until the proper steps have been taken to perform a safe die change.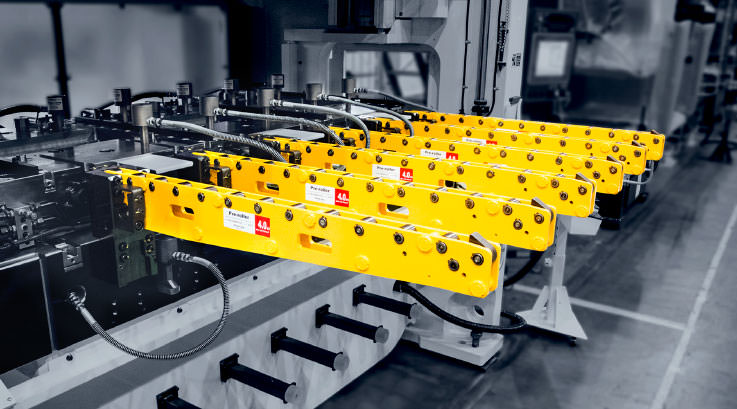 Pascal: The QDC Company to Choose
Pascal improves press and stamping machine productivity with quick die change equipment that minimizes press downtime. After evaluating your operations, we will recommend the optimal quick die change system that meets your needs and workflow. Customization is often undertaken to help manufacturers attain the changeover time and benefits they need. In addition to new presses, Pascal is able to retrofit existing presses with QDC equipment for those wishing to update their system.
If you are seeking to improve the die change process without automation, pre-rollers and pre-roller stands are available for loading and unloading the die. With a pre-roller stand, a single person can load and unload dies up to 8 tons. The pre-roller stand is ideal for larger, heavier dies.
Pascal systems are vital for just-in-time production and will improve overall production efficiency.  As a global leader in factory automation products, Pascal works with clients in industries from consumer electronics to automotive manufacturing. Find out how Pascal could improve your operations and contact us today.
Need help finding the right product for your application?