Swing Clamp And Other Workholding Devices
Devices & Automated Clamping for Manufacturing
Devices & Tools to Help Automate Manufacturing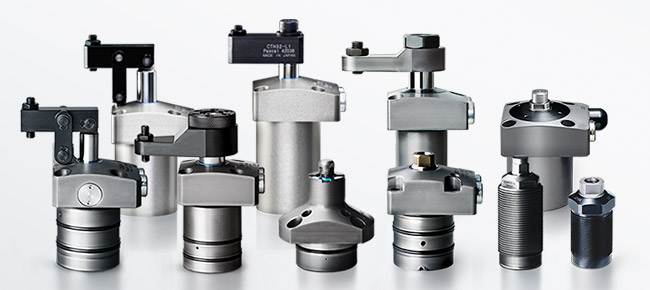 Pascal offers hydraulic and pneumatic workholding devices and solutions for various types of applications, including high-production, metal cutting, welding, milling machines and material handling applications. We offer automated clamping — from standard swing clamps, link clamps and work supports to sensing clamps, ID hole clamps, pallet clamps, locators, and roller gear indexers. All of which you will find integrated on customized clamping fixtures to meet complex machining needs including prismatic workpieces. 
A swing clamp rotates to clamp and unclamp, facilitating the ease of loading and unloading parts in a fixture. Pascal's hydraulic swing clamps have both single and double acting models that are equipped with sensors that can detect clamping and clamp overstroke (incomplete clamping). A long stroke model is also available.
Pascal Workholding for Production Machining
Pascal's approach to workholding allows for the use of smaller machines and the potential to add spindles into your facility. By combining Pascal's MDF roller index table and Pascal's expansion bottom clamps, the overall footprint size of the machining fixture is reduced, allowing the user to select a smaller machine table size than would be required when using traditional edge clamping. That is why Pascal workholding tools and equipment are utilized globally in leading manufacturing facilities.
Ensuring Safety, Accuracy and Consistency
Today's machining and turning centers are immensely rigid so as to resist the forces of high-speed metal removal. To avoid accidents and ensure accuracy and consistency, workholding equipment must be designed with precision and durability in mind. It should hold the workpiece in a way that prevents deflection or movement, and it must locate each piece in exactly the same position for every cycle.
At Pascal Engineering, we make workholding devices for milling, drilling, turning and other machining operations. These tools provide secure, rigid clamping and repeatable positioning that helps maximize quality while reducing load/unload times. In addition to our extensive range of workholding equipment, we can make custom devices to suit particular situations and needs.
Design Principles for Workholding Devices
Whether you are using workholding devices in milling machine operations, turning or drilling, or for processes such as boring and broaching, here are some general principles to follow:
Find a workpiece orientation that maximizes the number of operations that can be performed per set up — especially if using tombstone fixtures.
Pair clamps with supports so clamping loads pass directly through the workpiece and avoid causing any deflection.
Reduce the occurrence of part-to-part variation by tightening tolerances beyond those specified on the part print.
Standardize the design of supports and locating pieces to reduce costs and enable quick replacement.
Specify high-hardness materials for workholding components subject to wear.
Experts in Workholding
Pascal Engineering Inc. is proud to provide workholding tools and devices to manufacturers in North and South America. Our team of professionals has wide-ranging expertise across multiple industries — we are known for quality, reliability, and our ability to develop innovative workholding solutions for even the most difficult challenges.
To learn how we can help improve the productivity of your machining operations, contact us today.
Pascal Centering Vice for Milling After Lathe Turning
When milling then it is important to keep a constant machining center so that the workpiece does not get cut improperly or shift during the process. If the workpiece is not properly secured it could get damaged. Pascal's Centering Vice is automatic and ensures that the workpiece is safely secured. It holds the workpiece with high accuracy and repeatability. It is available in a standard or long stroke, as well as with a jaw.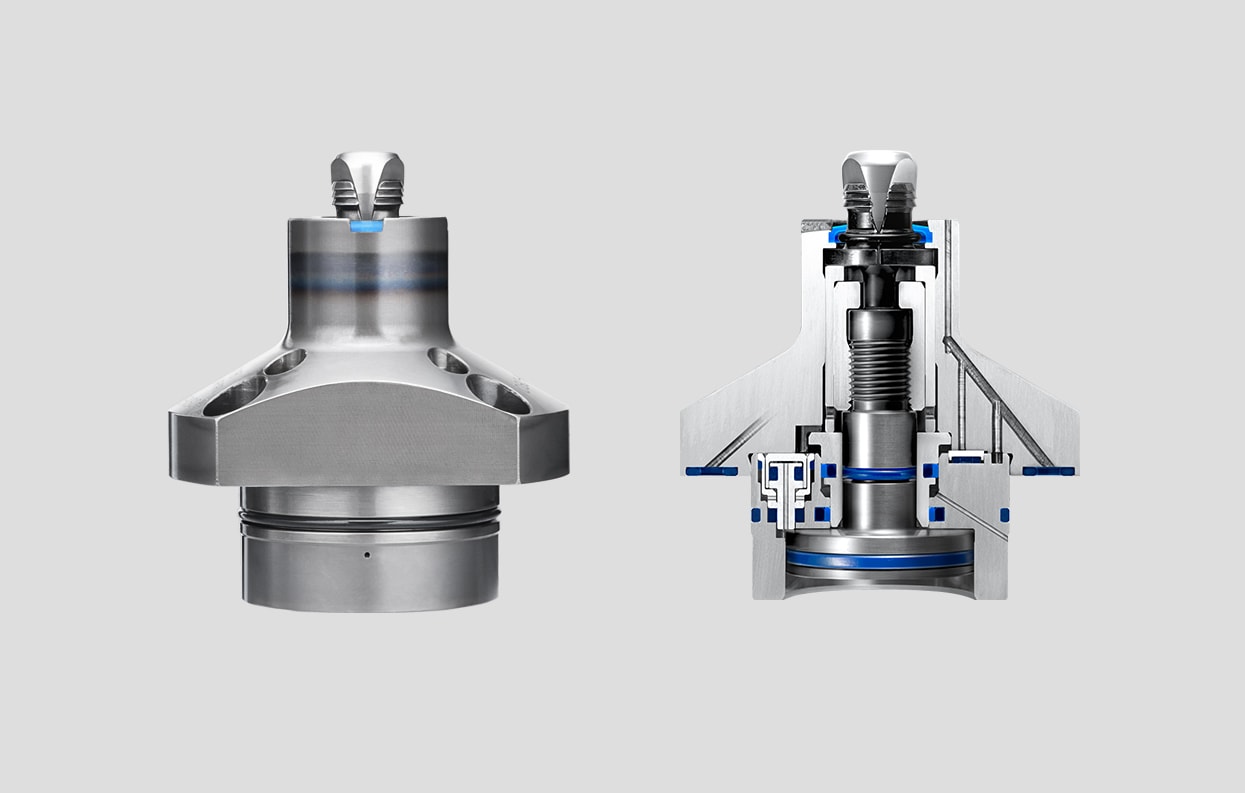 Need help finding the right product for your application?